---
beetroot soup with hazelnuts
---
preparation time: 40 minutes
---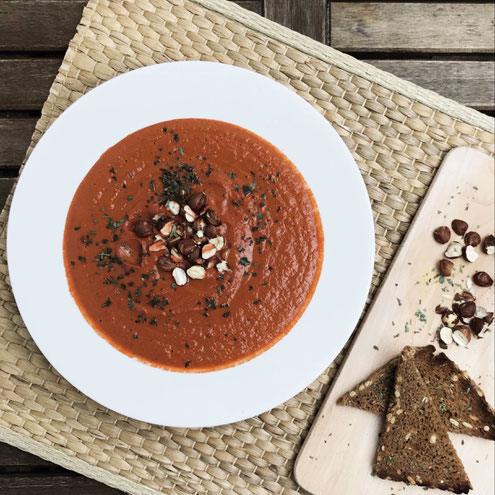 ingredients for 2 servings
---
500 g cooked beetroot (1 vacuumed package)
1-2 potatotes
80-100 g hazelnuts
2 gloves of garlic
400 ml water / or try that with coconut milk
1 tbsp. cumin
1 tsp. cayenne pepper
1 lime 
1 orange
salt & pepper
some roasted hazelnuts and goatcheese upon need 
---
step 1
---
peel the potatoes, roughly chop the hazelnuts and the garlic. squeeze the juice of the lime and the orange.
step 2
---
cook all ingredients together in a pot for about 30 minutes before you use a blender  to make it a soup.
step 3
---
serve it with some roasted hazelnuts and upon need some goatcheese.