---
creamy chocolate-banana-porridge
---
preparation time: 15 minutes
---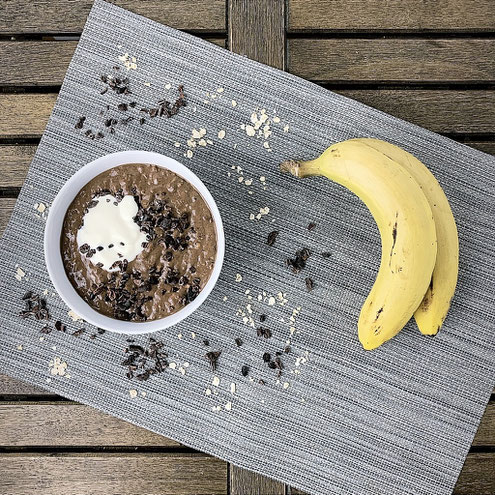 ingredients for 1 serving
---
1 banana  
5 tbsp. oats (approx. 50 g)
200 ml almond-milk (unsweetened) / soy-milk / milk (low-fat)
1 tbsp. baking-cacao 
1 tbsp. almond-, peanut-, or cashew-butter 
3 tbsp. soy-yoghurt / coconut-yoghurt / yoghurt / greek-yoghurt
1 tbsp. cacao-nibs / grated dark chocolate 
---
Step 1
---
heat up the milk in a pot on medium heat. Meanwhile, mix the oatmeal with the cocoa powder and mash the banana with a fork.
step 2
---
stir the oats into the boiling milk and let it swell briefly (about 2 minutes) while stirring constantly.
step 3
---
take the pot off the stove and stir in the remaining ingredients. You can enjoy this dish warm or leave it in the fridge overnight and leave it for the next day.