---
tomatosoup
---
preparation time: 30-40 minutes
---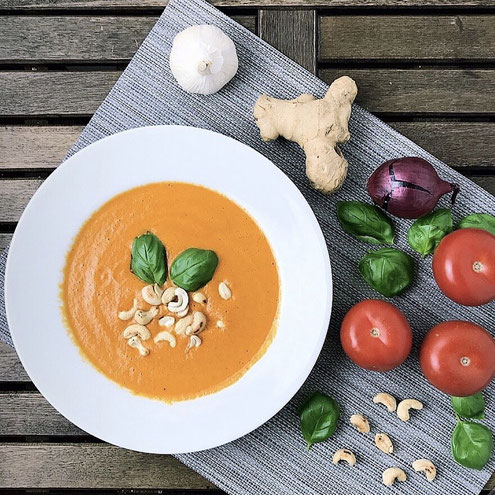 ingredients for 2 servings
---
10 tomatoes or 1 can of tomatoes (400 g)
2  carrots
1  onion
2 gloves of garlic
1 little piece of ginger 
1 can of coconut-milk (low-fat upon need) or 400 ml water
salt, pepper, fresh basil, chili upon need
roasted cashews or pine-seeds upon need
smoked-tofu, goatcheese, cottagecheese or roasted chicken upon need
---
Step 1
---
peel the onion, garlic, ginger and the carrots. warm some oil in a large pot over medium heat. in the meanwhile you can roughly chop your vegetables.
step 2
---
Add the onion, garlic, ginger and carrots to the pot . After about 3 minutes add the chopped tomatoes / canned tomatoes. Mix in the herbs and spices and let simmer for another 3 minutes. In the meantime, briefly roast the cashews / pine seeds without oil in a pan.
step 3
---
Add the water or coconut milk to the pot and let the soup cook on medium heat for another 15 minutes. Don't forget to stir occasionally! puree the soup and serve it with your toppings.